Date: Feb 11, 2013
If want to reg ister to become an FOJ member, check out this thread:
Here instructions on how to reg.
Date: April 18, 2014
Build #4 with new Sandpit track release. Update #3 2014-04-17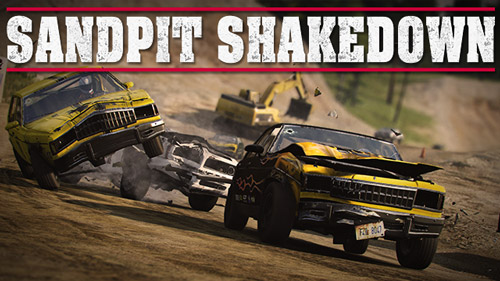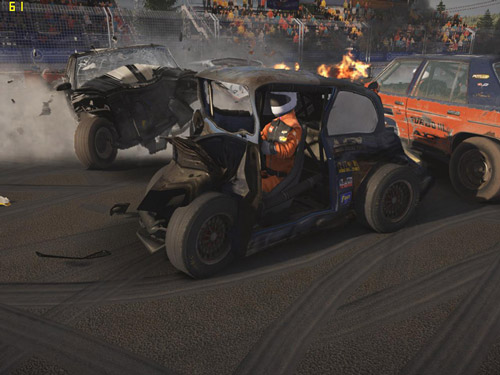 Date: Jan 31, 2014
Next Car Game made over $1 million after one week in Early Access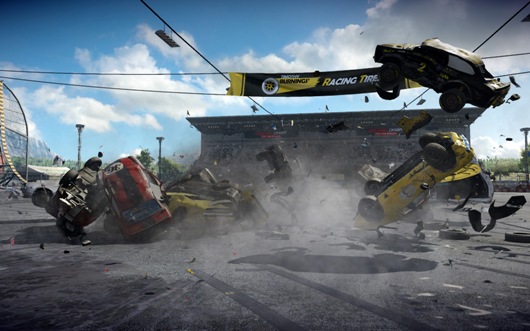 Date: Dec 24, 2013
Bugbear deliver on their promise to release pre-alpha before the end of 2013.
Checkout the Early Access Videos/Photos thread.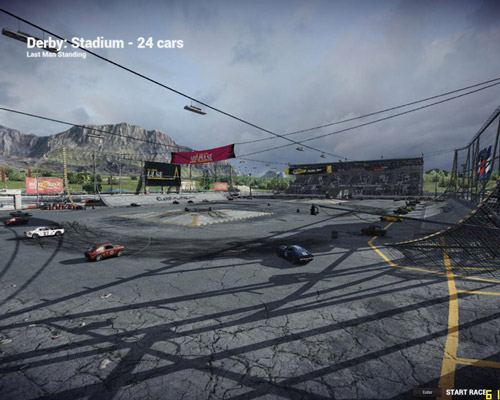 Date: Nov 22, 2013
Bugbear has cancel Kickstarted and started pre-order page back up. For those that have pre-order the "Next Car Game", check your email for link to sneak peek demo. Bugbear release it today!!!
http://nextcargame.com/pre-order/
Demo looking gorgeous with my 660 video card and sound good too!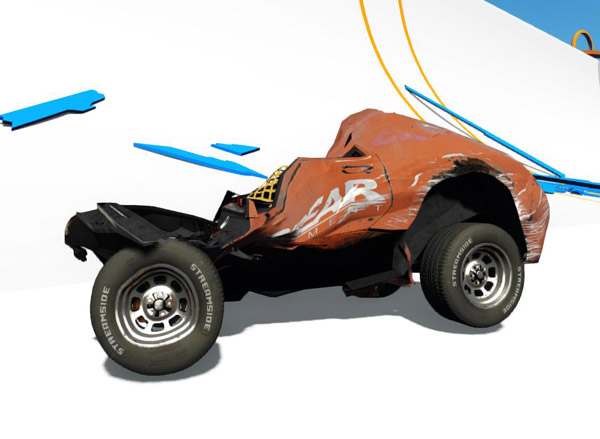 Sub-compact?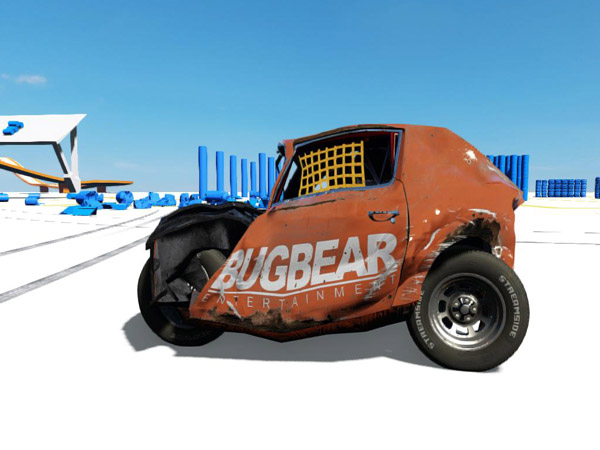 Date: Nov 14, 2013
Here it is, Bugbear has release video of some ingame racing on a dirt track.
Please note that the game is still very much work-in-progress, and what you see is not representative of the final quality. For example the track has not been properly decorated yet, and there's a lot of additional polish that's going to be done on it. Also, the player car damage has been disabled for the demonstration purposes.

Check out the video on our Kickstarter page and let us know what you think!
Go Purple!
Date: Nov 8, 2013
The Flatout community was SHOCK Thursday when Bugbear release the

Bugbear Retro Demo 2002 for free at their Kickstarter page for NCG!!
Here pic of the beetle of Flatout lore: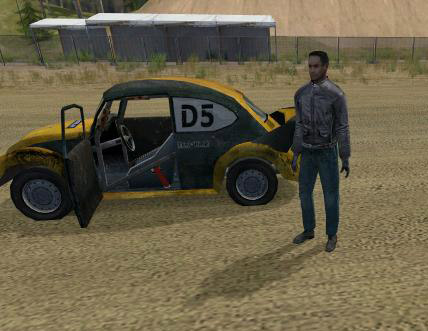 Date: Nov 1. 2013
Big news, Bugbear has put up a Kickstarter page for "Next Car Name".

If you plan to buy Bugbear new derby/racing game and have not pre-ordered yet, should give the Kickstarter page a read for new details about "Next Car Game", then show your support for Bugbear and pledge. If Bugbear reaches the $350,000 in 30 days, Bugbear will release the sneak peek demo.
Next Car Game: A Motorsport With Attitude!
Date: Aug 30, 2013
Please checkout the new Next Car Game video Bugbear release today!
Bugbear forum is back up, so please give the " FREQUENTLY ASKED QUESTIONS " thread a read, too.
Edit, Sept 6, 2013 - Bugbear "Next Car Game" is up for Greenlight over at Steam. Please go vote so NCG get Greenlighted and get listed in Steam store:
http://steamcommunity.com/sharedfiles/filedetails/?id=176123360
Edit: After you checkout the links above and decide you want to be an alpha tester, go place your pre-order:
http://nextcargame.com/pre-order/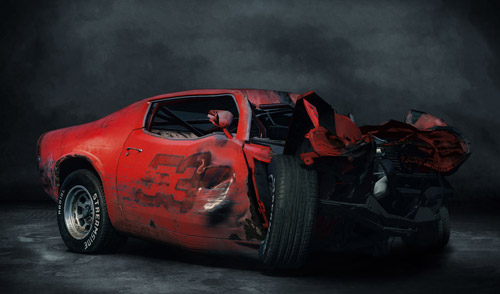 Date: July 7, 2013
You guys should checkout the Bugbear video RacerBest found.
Interview: The Next FlatOut Game (PC)
Joonas does mention the possibility of a close beta!!!!
Bugbear getting ready to make a big announcement next week about their "Next Car Game".


Date: Feb 11, 2013

If want to reg ister to become an FOJ member, check out this thread:

Here instructions on how to reg.

Date: Feb 26, 2013

Here it is, our first taste of what Bugbear been working on:

Jukka Merikanto >> First teaser trailer out now: http://www.nextcargame.com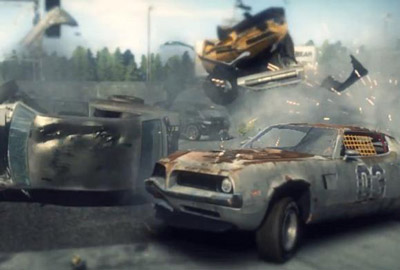 My biggest concern for Bugbear new racing game, will there be 12 players online. Here link to thread I started:
Joonas Laakso >> We don't yet know how many players we can support online in the final game. The more the merrier! Expect news on this much closer to release.
Date: Nov 18, 2012
The PurplePack for the FOJ Community Mod for Flatout 2 is ready to download.
For more info and download link:
PurplePack Mod discussion thread.
Here a couple of pics of the guys showing off some the cars to be found in the PurplePack last night, online with Tunngle: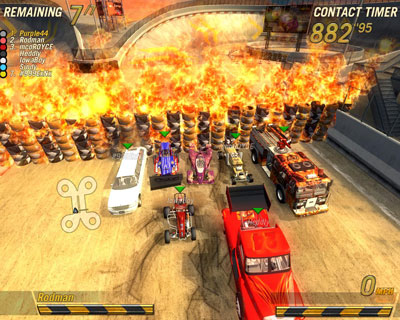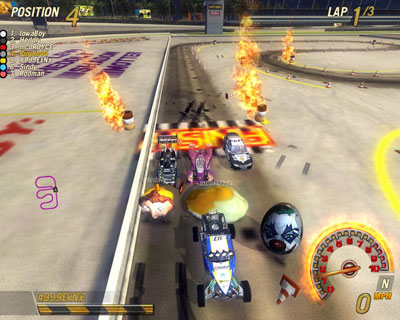 Date: Aug 8, 2012

No online derby racing in GRID 2!!!!

Here the shocker about the release of GRID 2, no online derby racing in GRID 2!!!! Can you believe Codemasters would let us down like this after screwing up figure 8 racing in DIRT Showdown? GGRRRRRRRRRRRRRRRRR

Please post your protest of Codemasters dropping GRID derby racing form GRID 2 in this thread I started over at Codemasters GRID 2 forum:


Can you believe it, no online derby racing in GRID 2!!!!


*****************************************************************************

Date: March 28, 2012

My hopes for Ridge Racer Unbounded have been dash!!

Just got back from Gamestop, I got to take a look at the back of the Xbox 360 RRU case and it says: 2-8 players online.

GRRRRRRRRRRRRRRRRRRRRRR

No 12 player GRID derby races online with RRU, unless PC version is different. I'm undecided now if I should cancel my pre-order.

Edit: Be warned, RRU is a console port, no wheel support, no remapping of buttons\KB, only support 360 gamepad, no text chat online.
******************************************************************************
Date: March 22, 2012
WOW, checkout this new Ridge Racer Unbounded video:
Here what I posted at youtube:
What can I say? WOW<WOW<WOW<WOW<double WOW!!!! Bugbear you blew me away!! We are going to be able to go crazy with the advance mode in the track editor!! WOWWWW aka Purple44
RRU is a definitely a buy for me now.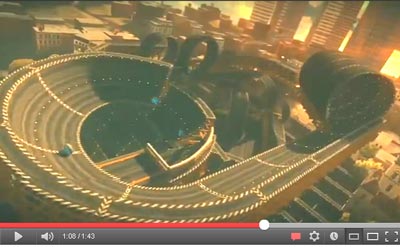 ******************************************************************************

Date: Feb 3, 2012
Heddly been doing some skinning for Flatout 3, here a pic of his latest skin. More skin pics here: Post your pics\video of tracks and cars you have used.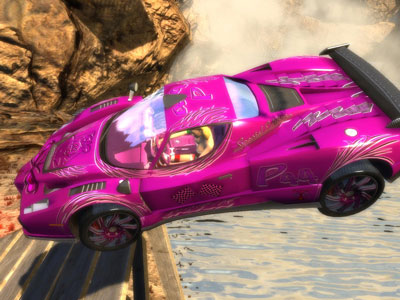 Date: Dec 16, 2011
New damage model being work on for Flatout 3: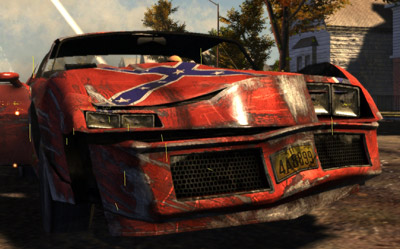 Here link to full screenshot:
FO3 deformation

Date: Dec 7, 2011
The news is out,Team6 new Flatout 3 is going to be release next Tuesday, Dec 13.
We all got our fingers cross that Team6 is able to deliver the fun of Flatout and the graphic quality of Flatout 2 and the online options to make multiplayer strong for the next 5 years, with the release of Flatout 3.
Update: The Steam videos are from an older build of Flatout 3 that publisher Strategy First used. Team6 has uploaded some better quality videos of the release version we will get Tuesday:
http://www.youtube.com/watch?v=gkU8OxaVk44
http://www.youtube.com/watch?v=VG__zsa0un4
http://www.youtube.com/watch?v=TYpb59qA154
http://www.youtube.com/watch?v=0VjlhjmWTSU
http://www.youtube.com/watch?v=dVzZJ5fe4Uw
http://www.youtube.com/watch?v=tZEjbhN8mbk
http://www.youtube.com/watch?v=-BeVynUiR8M
Here link to Team6 Flatout 3 webpage:
FlatOut 3: Chaos & Destruction
********************************************************************************************

Final version of Carpack 3 and updates 2 for our FOJ Community Mod for Flatout 2 are now ready for download in the download section.
I will host Community Mod with the new updates 2 bfs file Saturday, Dec 6, 2008. Will do a post next week with the details.
Also you will find a new Mod Manager included with updates 2 download. With a click of a button, you can switch "patch" file from stock v1.2 to Community Mod with updates 2 to adding Carpack 3 and Carpack 4 ( when 4 is done ).
Thanks De Stan for the new Mod Manager. :)
Edit:
Checkout our new trackpack in the download section which includes Shadow's GRID Jupiter derby car converted to Flatout 2:
Edit June 3, 2011:
=========================================
Heddly's Newest and Favorites CarPack4 Part1 and Part2
=========================================
This Car Pack has most of my favorite Custom Cars plus a few new ones, I have improved the textures and details as well as
adding a driver helmet with a cockpit and helmet camera view to as many race cars as possible.
========================================
To reduce the download size and time required. I have separated the CarPack into 2 separate downloads .
=========================================

DOWNLOAD :

Heddlys_CustomCars_Pack4_part_1 and part_2.
Edit Feb 2, 2011:
It been confirm that Team6 has gotten the OK from Zoo Games to make a better, bigger version of Flatout for the PC!! Thanks go out to all that sent a message off to Zoo Games asking for a new Flatout. You guys did it!!
Want a new Flatout for the PC? If yes, then we need your help.
Edit June 11, 2011:
Team6 sent us answers to a lot the questions ask at Team6's Flatout questbook page. Like there will be 12 player races online and Team6 hope to releases Flatout5 by the end of the year, 2011.
You should give my 2 part post a read at the beginning of the Flatout5 discussion here: thread.
Edit Sept 23, 2011:

New screenshots of new Flatout being work on by Team6: